Mayan OM Flute
A Double-barreled wooden flute hand-crafted by master instrument maker, Guillermo Martinez and styled on the ancient Mayan temple flutes which were played in the pyramids to create and maintain a spiritual connection.
Emitting a continuous tone of an octave of the OM frequency, one barrel is said to 'sing' to the earth while the other 'calls to the soul'.
The elegant simplicity of this instrument provides a unique and powerful method of applying the simple yet moving melodies of the INNER SOUND motifs.
Inlaid with turquoise, each flute comes with a certificate of authenticity and a soft carrying case.
Price: 275.00 GBP (approx - subject to customs duty)
Delivery time: 6 - 8 weeks from order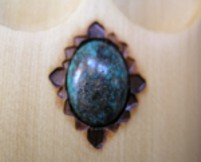 Mayan OM Flute Training
Arden Wilken introduces the playing of 21 of the basic INNER SOUND motifs on the Mayan OM Flute.
Fingering charts for playing the motifs & a CD recording of the 21 motifs played on the OM flute are provided as part of your course materials.
In order to cover the material within the 2 day course, it is essential for students to have previously attended a module which has introduced them to the motifs in detail (see below)
Orders for flutes for this training course must be received and paid in full in advance
(Minimum of 6 - 8 weeks delivery time)
Pre-requisite: Sound Touch (Module 3) OR Autophonetics Levels 1 & 2 Price: 150.00 GBP
Check Schedule for next training date
What is a Motif?
A motif is a short musical phrase made up of several notes that create a distinctive rhythmic pattern. Since 1978, through her investigative work with sound and music, Arden has identified over 50 motifs that have their own distinct healing influences.
Motifs can be played with any instrument, including the voice.
More about Motifs
Course Materials
Students receive fingering charts for the playing of motifs and a CD recording of the 21 motifs played on the OM flute as part of their course materials
www.inner-sound.co.uk & www.ardenwilken.com are related!
In some instances, the links on this website will take you to pages on our 'sister' website - www.ardenwilken.com If you wish to return to our site, simply click the 'back' button on your browser to return to the page you were on previously